(Publication, 2023) There is a space in time that I am fascinated by. It revolves around an orthopaedic children's ward in an Irish hospital in the 1980s that I attended between the ages of five and ten. I would have spent some time away from my family, and I suspect it was a very formative influence on the way I see myself today and on the language I use about my own body.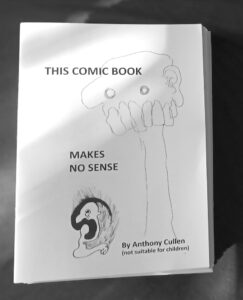 It was an amazing place with excellent care but very different to the world outside that I was used to. It was almost like the flip of that environment, largely due to the physical ability of those on the inside being completely different. It was quite a serious place in many ways with a lot of spinal injuries, and amputations either having just happened or about to happen.
There were a few elements to this space that highlighted inspirational coping mechanisms. Play was different. Kids who couldn't leave their beds had to develop their personalities, humour and storytelling abilities so they could hold onto some sense of empowerment and hold court in the ward. Pain had to be managed, which meant anaesthetics and prescribed drugs. Although these drugs were safe, they would have caused a lot of disruption to diet and sleep patterns. Parents were quite vulnerable and in those days they generally weren't permitted to stay in the ward at night. Nighttime in the ward was also a time when the children's personal guards were down. They allowed their vulnerability to show and let their alternative feelings be known.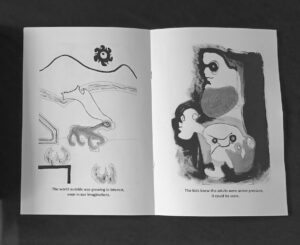 I was visiting the hospital because the nerves in my arm were damaged due to an injury at birth, but I felt I was way down the hierarchy of seriousness. Initially, this ward didn't make sense, but I knew it had a big impact on me. Comic books were given to entertain me, but they lost their relevance as the entertainment I craved was already in this new space.
As I try to uncover and explore what effect this place had on me, I embarked on a free drawing and writing exercise focused on my memory of the space. The intention was to unlock the fundamentals of my relationship with my body and this space through past memories. It is framed through the comics that didn't make sense or have relevance, to represent a new potent presence in my life, detaching me from childish distraction, and introducing me to a new, very real, harrowing world in front of me.
The publication can be seen at this year's Dublin Art Book Fair in The Temple Bar Gallery from 7-17 of December 2023.