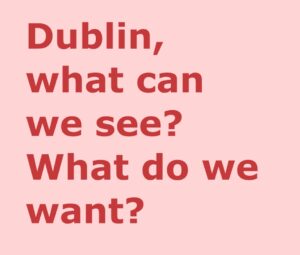 Dublin, what can we see? What do we want?
This is a guided historical tour of three significant Dublin sites to learn from and connect historical events to modern concerns.
About this event
The tour will be facilitated by the artist Anthony Cullen. The aim of this transitionary experience is to move away from the standardised format of mediated tours and towards an open discussion.
A group will be led around three significant locations in Dublin to provoke discussion of one of the largest infrastructures around us, the city of Dublin itself.
The environment created on the tour is intended to be an opportunity towards realisation of desires in relation to the City. The guide has equipped themselves to facilitate discussion about the desire for the city's future and the willingness to achieve those desires.
The three locations have been chosen specifically due to their socio-political histories. The locations are; Dubh Linn on the grounds of Dublin Castle, the settlement marked out in stone beside The Dublin City Council and the old City Wall on Oliver Bond Street leading to St Audoen's Park.