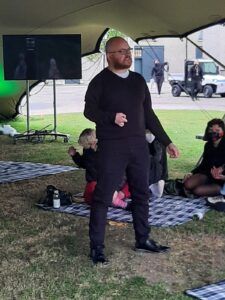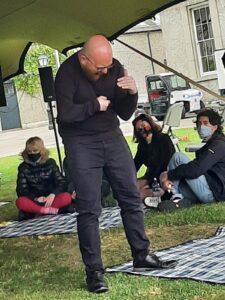 Performance (2021); Focused on the responsibility of the leaders of religious structures. This piece already took place as a performance at the outdoor Pavillion at IMMA on June 25th 2021. It was a study on the competence, confidence and arrogance of people involved in areas of responsibility in religions. 
The character of the religion's creator walks among the attendees in a trance-like state. He tries to convince them of the merits of joining his religion. There is a soundtrack of AI intermittently talking over him, stating that he is a liar. When this happens, the religion's leader starts a process of guilt convulsions until he gets himself back into a trance-like state again. This process is repeated numerous times during the performance.
Below is a clip from the Performance at IMMA, Duration 4:24,
Full Performance, 15:00 min.